Sheepshead Fishing in February
February 2011 From Hernando Beach to Venice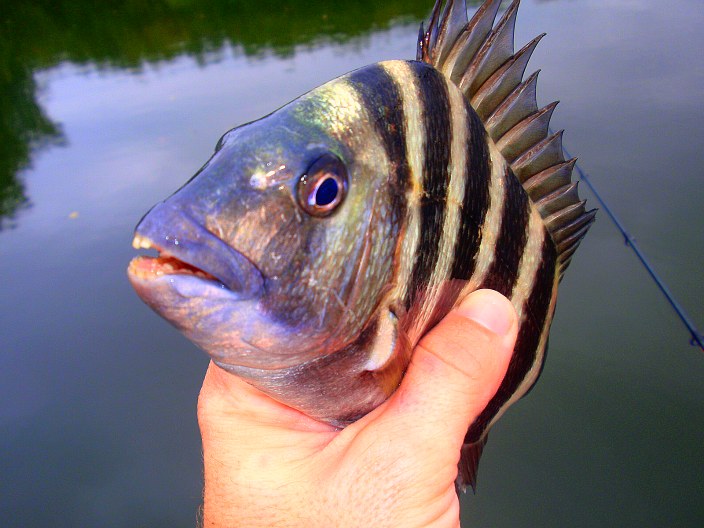 February is the peak of sheepshead fishing for the west central region and much of Florida.
When fishing for sheepshead look around bridge pilings, channel markers, oyster bars, docks and rock piles.
Pretty much anything that has barnacles and small crabs on it will have sheepshead nearby.
A very effective way to get sheepshead in a feeding frenzy is to scrape the barnacles off the structure you are fishing (a flat head garden shovel works great for this).
A size #1 - 1/0 short shank hook rigged with a fiddler crab or cut piece of shrimp free lined back in the chumslick created by scraping the barnacles works extremely well.
This time of year snook will be in the creeks and rivers in the brackish parts up to where it turns into freshwater.
Snook are very finicky this time of year but a free lined select shrimp will be the best bet for live bait while suspending hard baits will work well for artificials.
Look for a combination of fish consisting of redfish, trout, flounder and ladyfish on the dark bottom of residential canals and rivers.
On warm, sunny days redfish and trout will come out of the canals and rivers to roam the grass flats. On the grass flats a gold spoon or a live shrimp rigged under a popping cork will work very well.
Remember these fish are very spooky so long cast and being very quite is key.
In the canals and rivers a live shrimp rigged on a jighead bounced along the bottom will get best results for live bait.
If artificial lures are your thing, a gulp shrimp on a jighead bounced along the bottom like the live shrimp will also give good results.
Since grouper and red snapper season is closed many anglers will be looking for other species to fish for.
Amberjack, seabass and mangrove snapper is at the top of the chart for offshore fishing.





Return to Fishing Forecast page from Sheepshead Fishing in February page