Florida Tarpon Fishing
Florida Tarpon fishing is known to be some of the most exciting fishing in the World. If you have never tried Tarpon fishing you are missing out on a thrill that cannot be put into words.
I have found that finding good, detailed information on Florida Tarpon fishing is next to impossible! I've searched websites and talked to many people before I started to realize that I just needed to put my time in and figure it out for myself.
Over the past few years I have had friends that are great Tarpon fishermen give me some hints and I hired a guide so I could learn even more, now I can put all of what I have learned together and can now consistently catch Tarpon. Here is what I have learned about Florida Tarpon fishing.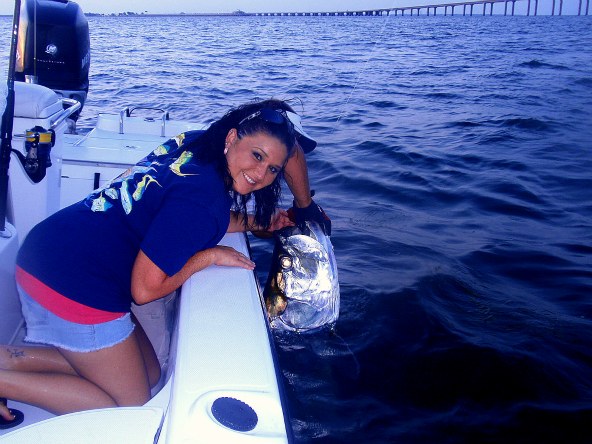 The moon and tides effect the behavior of Tarpon more than any other inshore fish. Some of the best times to fish for Tarpon in Florida are 5 days leading up to a full or new moon and 5 days following a full or new moon in the months of May, June and July in the west central part of Florida.
The outgoing tides during these moon phases will pull crabs of off the grass flats and grassy bottom areas and the crabs will drift out into the Gulf of Mexico if a Tarpon doesn't get them first.
This makes passes, channels and bridges prime areas to target during this time. I plan my Tarpon fishing trips around these moon phases, if you do the same you will be much more successful at catching these fish.
I am not saying that Tarpon can't be caught during other moons and less strong tides, it's just easier to target them during the full and new moons.
The most common bait for Tarpon is a live crab either free lined or under float. Tarpon also feed on live shrimp and baitfish like pinfish, blue runners, threadfins and greenbacks. A variety of dead bait like ladyfish, mullet and cut threadfins also work well.
Some of the most well known places to go Florida Tarpon fishing is the World Famous Boca Grande Pass, Egmont Channel, Sunshine Skyway Bridge and many Tampa Bay and Charlotte Harbor Bridges.
These spots are no secret, many boats fish these areas for great non stop action but you can find Tarpon in many more places that are not near as busy as the "well known" spots.
Another topic of Florida Tarpon fishing that is hard to get information about is what kind of tackle to use? Well this all depends on where you are fishing and how you plan on fishing for them.
Everybody is different when it comes to what brand of rods and reels to use but I can tell you that regardless of the brand a good quality rod and reel is needed because of how hard these fish fight.
You will be very disappointed if you hook one of these fish on a cheap Walmart setup, you will either break your rod or burn up your reel so make sure you have good quality equipment.
Rods
A good one piece rod, 7' – 7'6" in the 15 -30 lb class will work best when fishing around bridges, channels, beach fishing, and passes. Even with some of the best rods on the market it is still possible for them to break because of the extreme load that is put on them. So make sure to check out the warranty before purchasing your rod.
Spinning Reel
For a spinning reel, I like the Shimano Baitrunner 6500 for great performance and it is not too expensive, this reel is the best bang for your buck. You will find out that rods and reels for Tarpon fishing can be very expensive! Spinning reels are popular for beach fishing and live bait fishing when many casts will be made.
Conventional Reel
If you are looking for a conventional reel the Shimano Torium Tor 30 reel is a favorite among many Tarpon fisherman. This reel is used commonly in Boca Grande Pass and many other passes around Florida when jigging for Tarpon. Both of these reels are the only Tarpon reels I use and I have no complaints about either one.
Line
I like to use 30lb - 50lb Power Pro Braided Fishing Line, this line is very tough and strong but when fishing around structure it needs to be checked for freys so your next fish will not break off.
I replace my line every month during Tarpon season April – July because of the stress that is put on it every time a fish is hooked. Some anglers prefer monofilament fishing line for Tarpon fishing but most use braided fishing line.
Leader
Good fluorocarbon leader is a must when fishing for Tarpon. I like to use around 6ft of 60lb Seaguar Fluorocarbon Leader but sometimes up to 80lb leader is necessary.
The leader needs to be around 6ft long because during the fight the fish often turns where the leader rubs up against the back and tail of the fish.
Hooks
Hooks can range from 6/0 to 8/0, I like to use the 6/0 Gamakatsu Octopus Circle Hooks. When using a circle hook the fish will basically hook itself but a couple quick, sharp jerks of the rod to set the hook are still needed to help the hook penetrate into the Tarpons hard, boney mouth.
Tarpon fishing is different from place to place throughout Florida with different types of bait and the way each bait is used.
Each link on this page will be about Florida Tarpon fishing to help you be able to catch Florida Tarpon.


Return to Florida Fishing Insider Home page from Florida Tarpon Fishing page